Listen… just for 2 minutes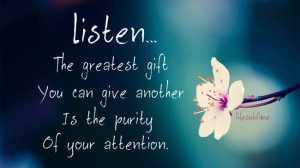 One of the very first exercises I remember doing at the start of my coaching training was to sit with a partner and listen to them describing something about themselves and their aspirations for 2 minutes without any form of interruption, verbal or non verbal. Sounds pretty easy right? Not long is it? I thought so too as we began… But it was hard … Hard to completely devote my concentration and listening to them… fully, with no thoughts about what to say next, what to ask, no judgments spoken or unspoken, no "uh-huhs" or "right"s or "ok"s, just complete focus and interest on them and what they were saying. I learnt that there is "listening" and then there is "deep listening" – two quite different things.
And how did my partner feel at the end of the 2 minutes? Brilliant! Valued. Appreciative that someone had given her "full on" attention. Motivated. Happy in herself.
It was such a simple and yet powerful exercise and it began to teach me how true and selfless listening is a skill, an art and most of all, a wonderfully empowering gift for the person being listened to.
We all listen in different ways and with differing levels of attention (often depending on where we're at at the time). Why not try the 2 minute exercise with someone this week? Let them know up front and don't be afraid to time it : remember, no less than 2 minutes and no speaking from your part.
I hope you're pleasantly surprised with the results.