Why Worry?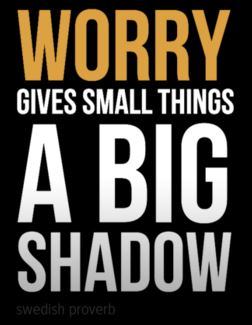 "I am an old man and I have known a great many troubles, but most of them never happened" –  Mark Twain
Nice logic Mr Twain. The problem is that most of the time, worry isn't really the logical thing we might think it is. It's an  emotional response which comes from and feeds stress and anxiety. They make a powerful and (usually) debilitating trio.
As the poster quote above reminds us, we often get our concerns out of proportion with the matter at hand. That's a bit worrying isn't it? (sorry, couldn't resist!)
I recently came across some interesting statistics purported to be from a study about worry. I'm not sure of the source and therefore the specific validity, but the numbers felt about right when I reflected on my own circumstances:
40% (of worries) never happen.
30% of what we worry about has already happened.
12% are needless worries, such as what someone else thinks about us.
10% are trivial
8% of what we worry about actually happens. Of this percentage:

– 4% of our worries that happen are beyond our control.
– 4% of what we worry about we have some if not all control over the results.
So why do I worry and what can I do about it?
In his excellent book, Paul "SUMO" McGee, says the following:
"Worry is a form of thinking. Our minds become focused on a particular problem, concern or challenge. How we worry can either be constructive or destructive. There's 'worth it worry', which hopefully leads you to taking some form of action to resolve an issue, or there's 'worthless worry', which does nothing to actually deal with the concerns you have."
How can we identify and handle the 'worthless worry'?
I still have a lot to learn in this area – I know that I continue to worry a bit too often. However, these ideas, which I've collected over recent years have helped me a lot:
Ask yourself how serious is this issue on a scale of 1-10 (10 = death!).
Ask yourself "how much will it matter in a day/week/month/year's time?" (choose the most appropriate)
Write the worry down on paper (this can get it "out" of your mind to some degree)
Think about the worst case scenario – what's the worst that could happen and what would you do if it did? (sometimes identifying this can reduce the anxiety levels quite significantly)
Can you control or influence the outcome? Think about it. If you can't then try and learn to accept it.
No rocket science here. These tips won't eliminate every worry or feeling of anxiety from your life, but may help you get some perspective so you can reduce the size of the "shadow" and therefore eliminate some of the stress. I hope so, anyway.
"Worry a little bit every day and in a lifetime you will lose a couple of years. If something is wrong, fix it if you can. But train yourself not to worry. Worry never fixes anything."
(Mary Hemingway)