The Comparison Trap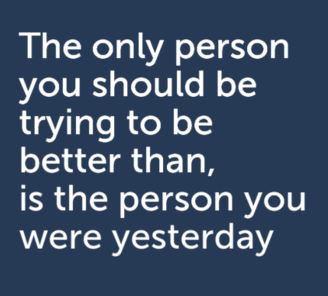 What a simple statement and yet a profound one.
It's easy to compare ourselves with other people isn't it? Especially those we perceive to be doing "better" than us. It gets even more complicated when we consider different aspects of our life e.g. work/career, relationships, finances, health etc. Whilst it's good to have positive role models, I think there is a fine line between taking ourselves in a good direction (similar to them) and trying to be someone we simply aren't – and this is one of the areas in which the art of comparison can get distorted and become counter productive.
The truth is, that no matter how "successful" (whatever that word means to us) we are, there will always be someone seemingly ahead of us and someone behind us. No matter how good or bad life seems, we don't have to look far to see someone else in a better situation and someone in a worse one. If "the grass is always greener" then this means that theirs is and so is ours!
So what's the real value in spending time comparing ourselves too much with others? What does it lead to? How does it help our self-image, confidence and motivation? Does the act of comparing push us forwards or backwards? The answer isn't straightforward and it usually depends on the perceptions we have of ourselves.
I sometimes say to myself "There's no-one better than me, and I'm no better than anyone else". It's a balanced thought that works for me.
In line with the quote above, surely the trick is to think about how I can be a better version of me (tomorrow). This encourages me to dwell on what's within my own control rather than ponder the whys and wherefores of things (and people) that are beyond it!